Mid-summer and time to enjoy another issue of Thousand Islands Life online. We have 15 articles this month, something for everyone.
See: Volume 17, Issue 7, July 2022
From the Editor – by Susan W. Smith
Summer photographs, community calendars, pies for sale, and Island Gala. A poem by Thomas K. Hunt and TI Life needs help correcting and adding to our web pages: Communities, The Place, and more. Yes, we can keep you busy!
"Beauty and Strength, the life and work of American sculptor Sally James Farnham." – by Sarah Ellen Smith
This is the largest public and permanent exhibit of Sally James Farnham's work and it celebrates this forgotten woman's life . . .
For Canadian Waterfront Land Owners– by Susan W. Smith
It appears that Cataraqui Region Conservation Authority (CRCA) is planning on making major changes to what we can and cannot do with our waterfront properties.
Meg Meakin shared this photograph on June 23, 2022.  "It's a meet," she says, "the downbound "Mimi Jane," heading to the Tall Ships Festival in Brockville, ON, meets the upbound Canadian Warship "701, HMCS Glace Bay," on her way to Hamilton, ON.
The Giant Joro Spider – by Paul Hetzler
First your car catches fire, and then your house. Worse yet, your date kills you and devours your flesh without so much as an apology. Yeah, spiders are creepy  ,  ,  ,
Childhood Adventures at the Bridge on Grindstone Island – by Manley Rusho
Arriving at our paradise one morning, my brother and I were pleased to see an old and frequent visitor to the bridge, Nate McCarty, a one-eyed old man . . .
A River Rescue – by Tom Robbins and Illustrated by Sarah Coate
Storms on the St. Lawrence can be beautiful to behold . . . and they also can be life-threatening.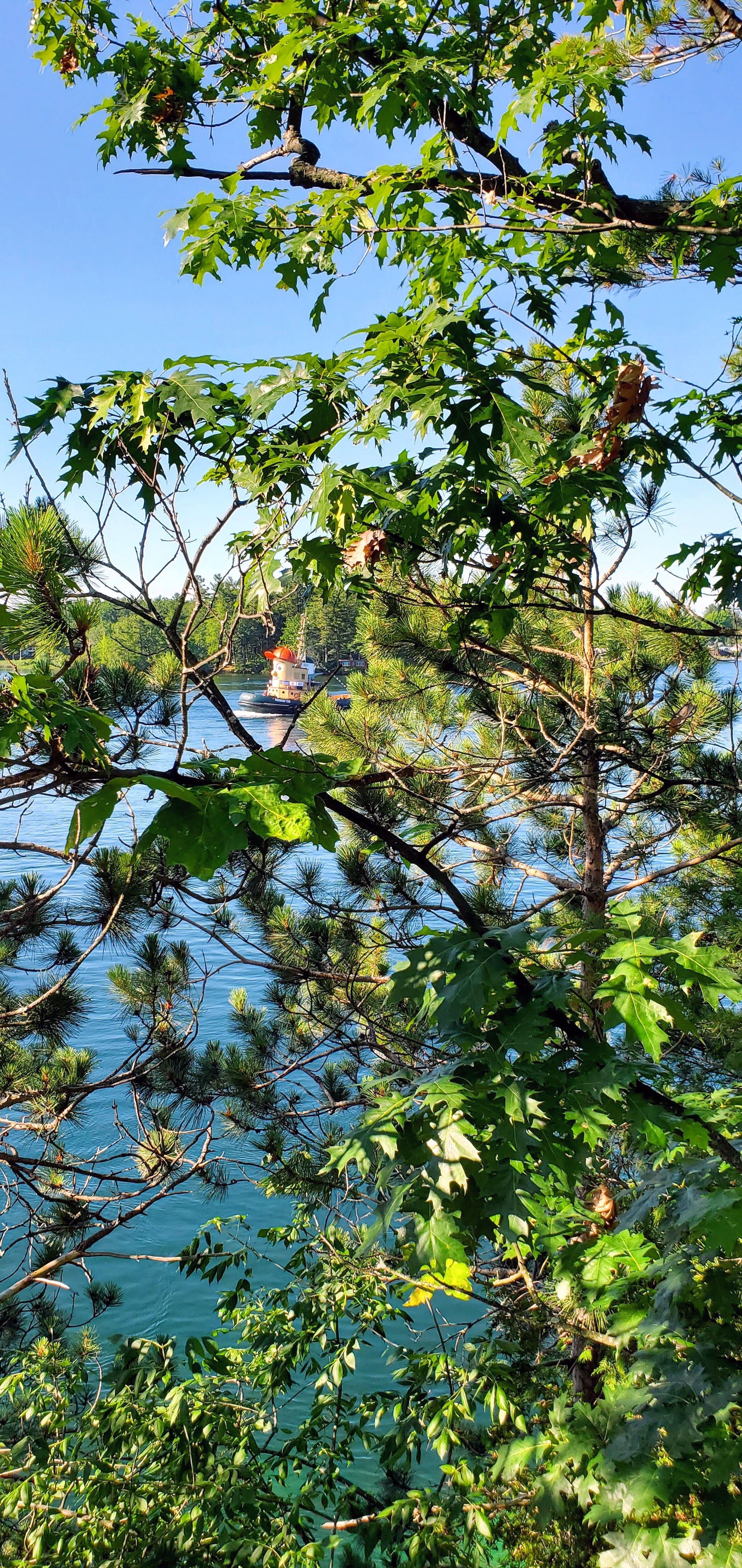 Kris Pinkney got a glimpse of the famous "Theodore Too" as she came back to our Islands this summer to help celebrate Clayton's 150th.
"The Runners" by Patty Mondore
CSL commissioned the mural, which was created by Bryan Beyung, along with equally renowned Canadian artists Emmanuel Jarus, Andrea Wan, and K.C. Hall, to help celebrate the spirit of the 2022 Canada Summer Games.
Miser, the Railroad Dog – by Richard Palmer
This morning I left the elegant coach with its comfortable, high-backed seats, for a trip in the baggage car .  .  . I wanted to get better acquainted with my friend Miser.
The Burnt Island Lighthouse – by Mary Alice Snetsinger
Burnt Island saw two women appointed as lightkeepers, including the first woman officially recognized as a lightkeeper anywhere in the Thousand Islands . . .
Yes, if you see this view on Facebook you know it is the first week of July and Kris Pinkney is back in her favorite rental cottage on the Seaway. What could be a better way to enjoy a warm afternoon? Kris was a regular contributor to TI Life transcribing May Dewey's Diary with footnotes.
Turn off the Light – Bring on the Night – By Heather White
As a young child I would wait until after dinner, then my dad would say, "Time to find the night!"
"Microplastic Pollution Discovered in the St. Lawrence River" – by Kara Lynn Dunn
"Microplastic Pollution Discovered in St. Lawrence River" was the headline of a news release in September 2014, as McGill University . . .
TIA Breakfast and AGM is Back – by Allison Burchell-Robinson
How did the breakfast come about: " In the early 2000's, when Barbara Butts was President, the idea of a shore breakfast before the meeting was launched. Attendance grew and the news spread.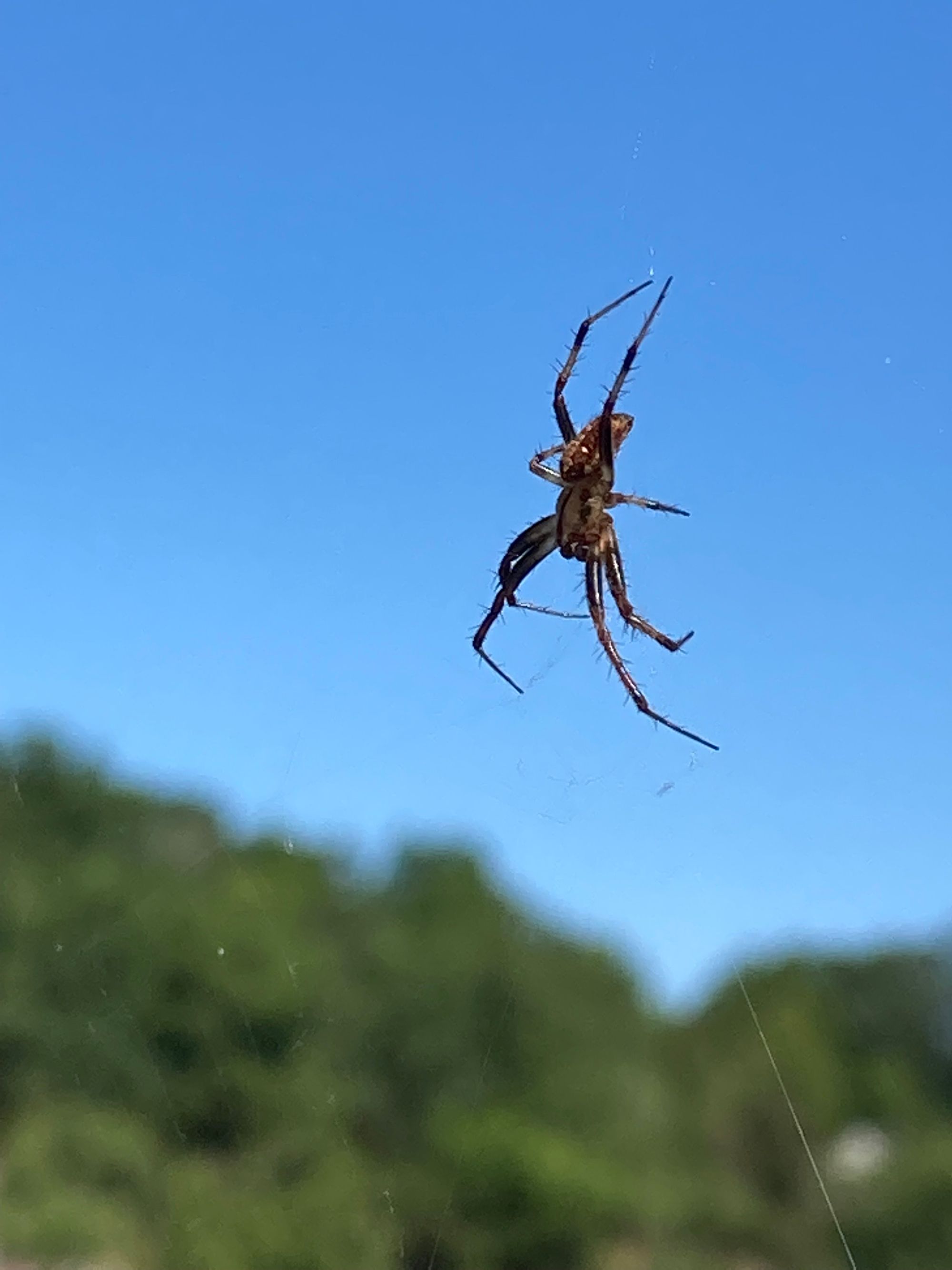 Recognize this friend? She lives on my boat! [Photo by the editor]
Grindstone Opens New Heritage Museum – by Liz Raisbeck
On July 23rd The Grindstone Island Research and Heritage Center will open The Grindstone Island Heritage Museum, in the 142-year-old Lower Schoolhouse (District#1).
12 boat safety tips that might just save your child's life – a reprinted article from Ningbo Haishu Hong Kong outdoor industry & trade Co., Ltd.
How can one have fun with the kids and still ensure that accidents, like the two mentioned in this article, don't occur? It's pretty simple, if you observe the following 12 safety tips.
Sudoku Puzzles # 113, #114, & #115 – by Dan LeKander
We continue with 3 puzzles each month.  We start with a Sudoku puzzle in progress, where it appears there are no more obvious or not-so-obvious clues.  Can you find the hidden clue in Puzzle #113?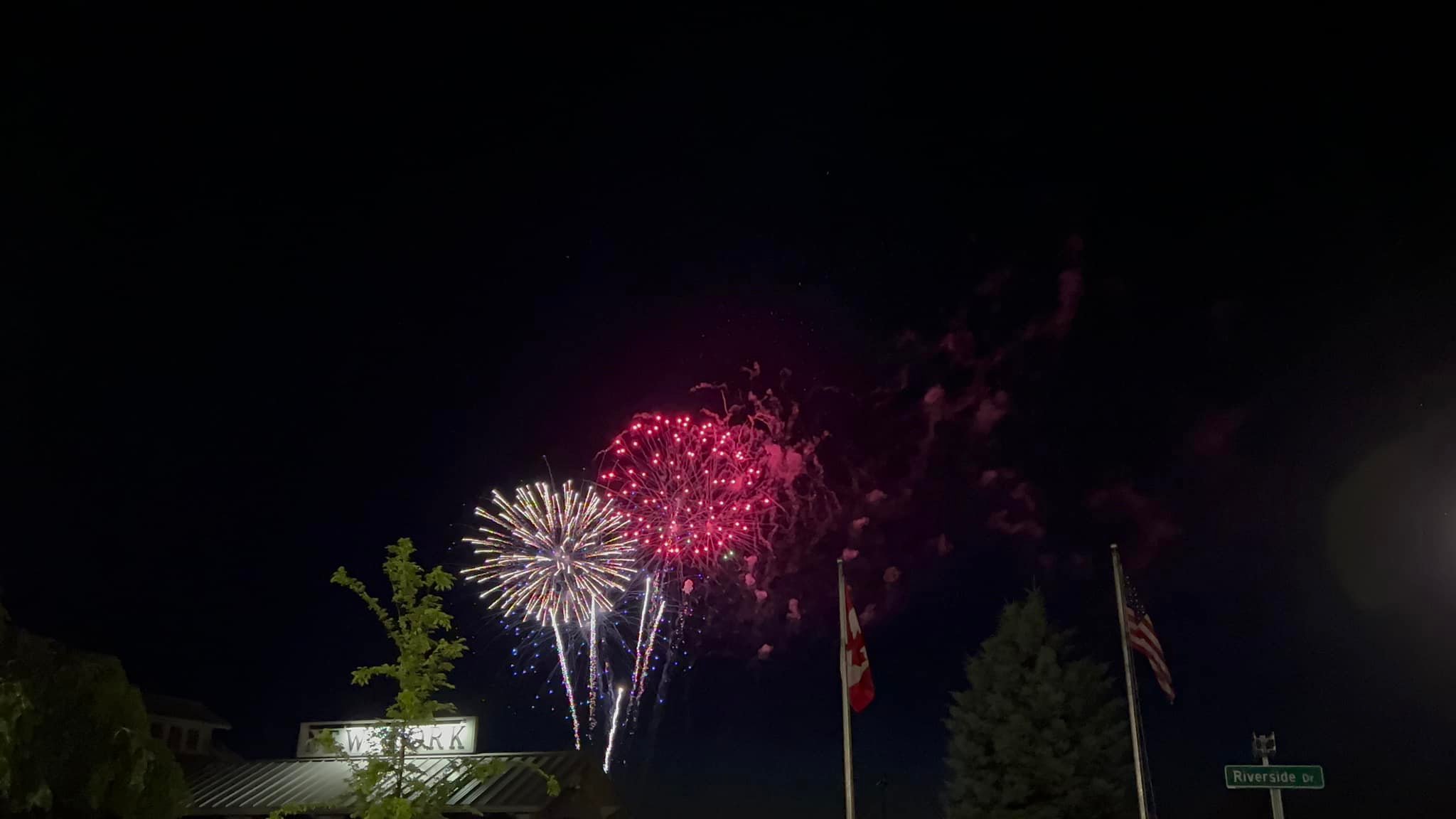 [Photo by Michael Street, July 2, 2022]
The fireworks are over for Summer 2022. Stay safe and enjoy every family activity you can muster. Remember to gather your favorite photographs for our 2022 Photo Contest, December 2022.
Enjoy,
Susan W. Smith, Editor, info@thousandislandslife.com
Sandra