Weather can make or break a summer event, and this summer's storms have been a test for many. We hope your summer, which is still going strong, has been wonderful. Certainly the temperatures are perfect and those sunny days are appreciated. Either way, we hope you enjoy and appreciate our 14 articles for August.
See: Volume 18, Issue 8, August 2023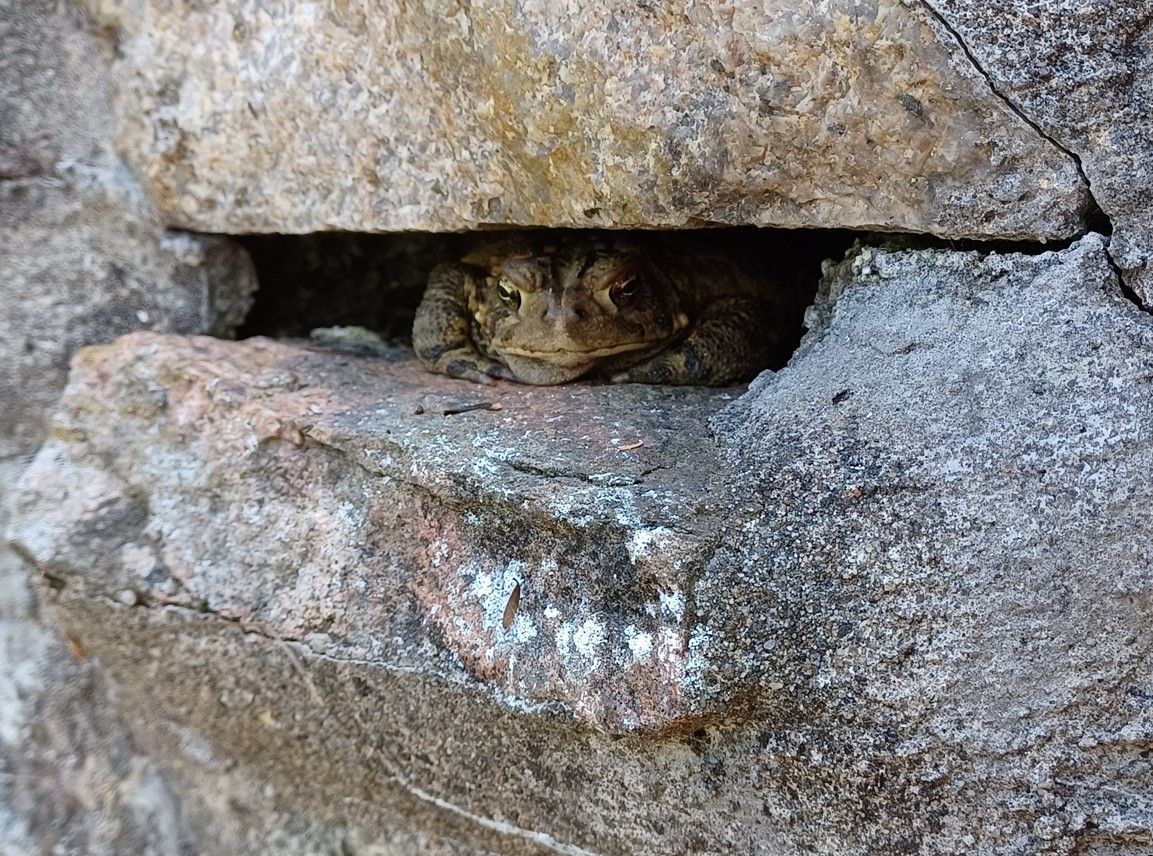 Winky McGowan, Little Sagastaweka Island, happily discovers this inhabitant on her island.
From the Editor – by Susan W. Smith
14 articles plus editor's news, Boat Name's contest, tribute to Tom Tinney, my holiday, and memorable photos.
The Resurrection of Comfort Island – by Tad Clark
I concluded my 2015 history/memoire about Comfort Island with the passage: "Goodbye Dear Comfort. May you flourish again in the years to come."
Two Artists Work Differently Together – by Scott Ouderkirk and Christine Tisa
Christine and Scott have spent the last several decades creating art about and around the Thousand Islands. Many people in the area own and display each artist's work, but few of those people would think of the two artists' work as similar . . .
Blind Bay and CBP's Proposal – by Larry Asam
Even to the casual observer, Blind Bay is an environmentally sensitive area. It is extremely disturbing that US Customs and Border Protection (CBP) appears solely focused on establishing a large facility specifically in this fragile area . . .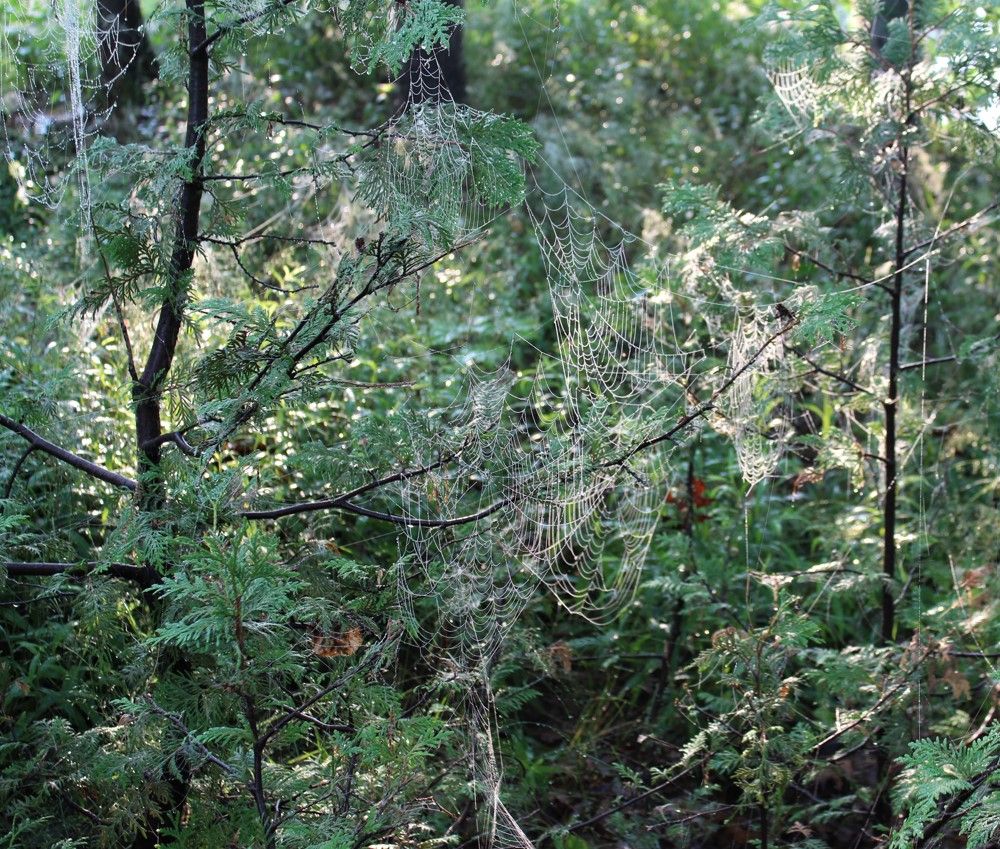 Summer rains and sunny periods allow Winky McGowan to capture nature at her best. [Editor's note: Yes, Mrs. Spider and her many webs may not be welcome on my verandah, but here in the woods they are perfect.]
Fly Research Yields Possible Trauma Treatment – by Paul Hetzler
All about new research on fruit flies - with surprising results - on flies dropping like flies when they see dropped flies . . . (Editor says: There may be help in my summer kitchen!)
Remembering George Hood – by Jonathan Horlick
On July 17, 2023 family and friends gathered at the Gananoque Golf and Country Club to celebrate the life of George Newton Hood, who died in Kingston, ON, on June 30, 2023, at the age of 67.
Traveling to the Thousand Islands by Stagecoach – by Richard Palmer
The party reached Depauville on Saturday, where they spent a "horrid" night. They left Depauville at 4 am, drove through to Clayton, and were met by an immense crowd.
More Than Passing Ships – by Cary Brick
The Seaway is more than ships passing through the Thousand Islands. It is a powerful economic engine for 110 ports in eight US States and two Canadian Provinces.
The Rope Swing – by Manley Rusho
Manley wrote this poem about the rope swing that hung for many years on the Rusho property on Grindstone Island. The rope hung high . . .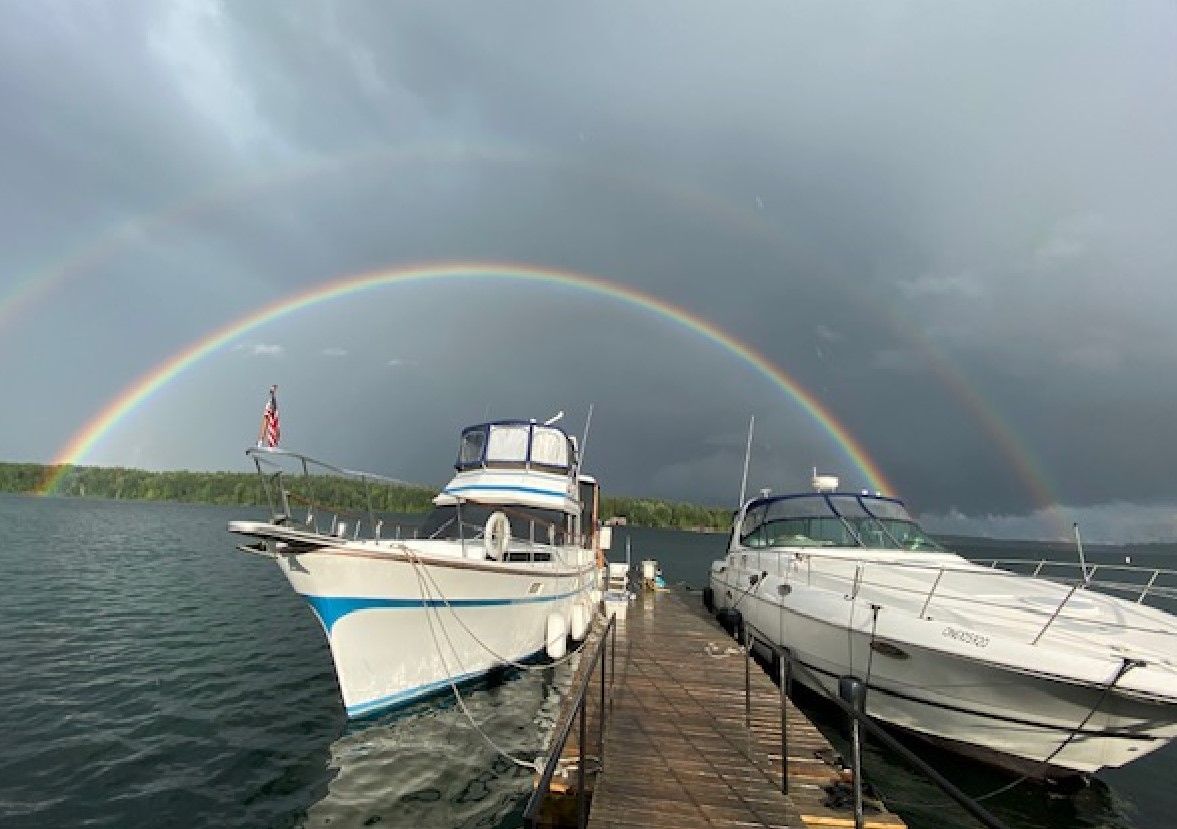 Vivien Levermore captures her rainbow, saying, My "MoonRiver" on left and "Next Chapt" is on the right."
TILT Conserves Garlock Bay, Protects Water Quality, Rare Habitats – by Jake Tibbles
Though not officially labeled as Garlock Bay on navigation charts or USGS topo maps, the scenic embayment behind buoy "205" claims its name from decades of ownership and diligent stewardship by the Garlock family of Alexandria Bay . . .
Mallorytown's Special Guest Artist, Mance Granberg – by Martha Stroud
Mance Granberg is a Wolastoqiyik/Abenak artist who explores the relationships between people, animals, and plants and is rich with spiritual imagery and symbolism.
Hydroplane and Classic Car Show 2023 – by John Kunz
July 22nd the Chippewa Bay Maritime Museum hosted its 3rd annual Hydroplane and Classic Car Show. There were cars and hydroplanes there that were nearly 100 years old.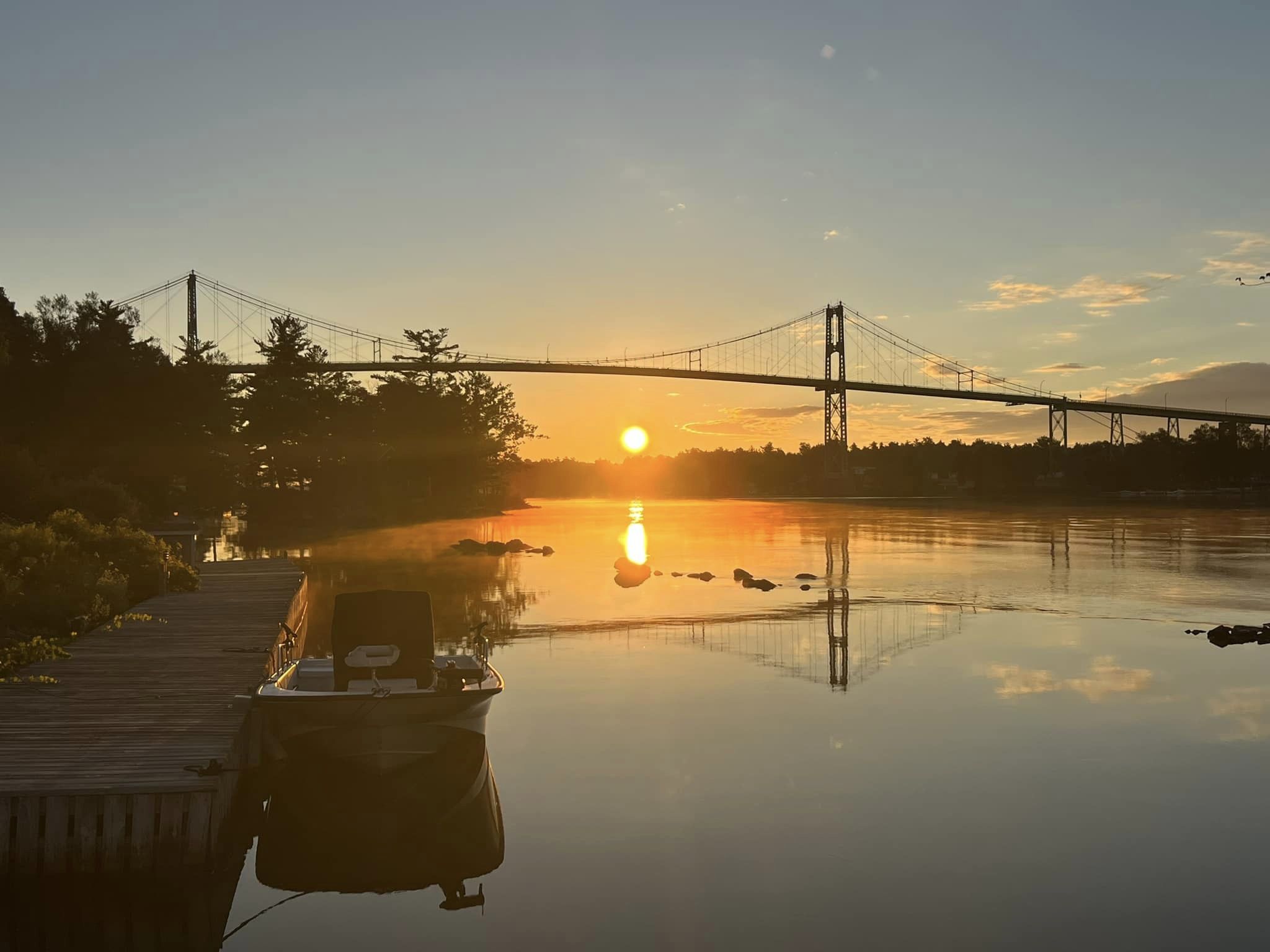 Doug Tulloch wishes everyone a happy Monday in the Thousand Islands, August 14, 2023.
Fall Excursion to The Wild Center! – by Mary Eggert
Where can you go this fall that has enchanting foliage, adorable animal ambassadors, a plethora of outdoor activities, and the opportunity for people of all ages to learn about the world around them?
Sudoku Puzzles in August – by Dan LeKander
We start with a Sudoku puzzle in progress, where it appears that there are no more obvious or not-so-obvious clues . . .
Enjoy and please leave your comments!
Susan W. Smith, Editor, info@Thousandislandslife.com