November 2020 needs no introduction - suffice it to say we are happy that Canadian Thanksgiving has passed safely, the month is half over, US Thanksgiving heaving into sight, with Christmas and the Holiday Season just around the corner. Even though Thanksgivings this year are unusual, we will certainly stop and give thanks for our health and happiness.
Your November Thousand Islands Life Magazine is now online. https://thousandislandslife.com/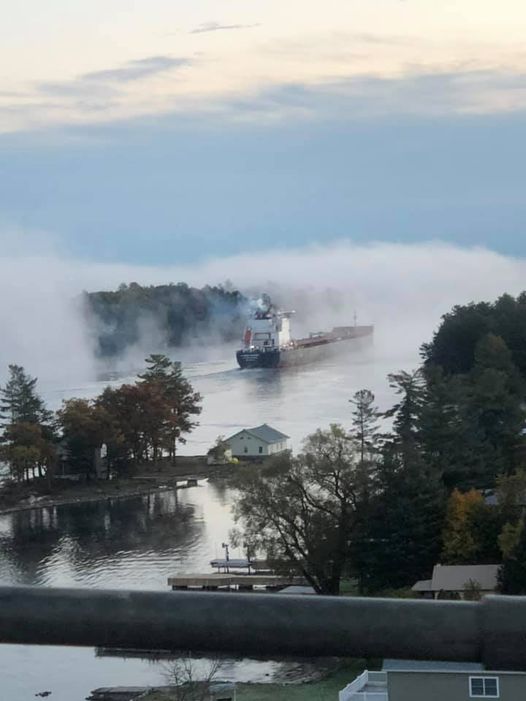 [Our thanks to Amy Shaw for sharing her beautiful October morning.]
We have 13 articles this month - enjoy them all!
News from TI Life in November, from the editor: list of our 67 TI Life authors from January – November, 2020; Thousand Islands Playhouse Halloween; TILT Renovations; Cary Brick's COVID-19 Project; and photographs of the Thousand Islands.
About the "Cottage on Stilts of Light" on Murray Isle, by Lynn McElfresh.  Who lived there and when! The Hon. Henry Spicer, Col. James T. Watson & Hannah Watson…
9th Annual TI Life Photo Contest, by Chris Murray. November is here, which means it is time for TI Life's 9th Annual Photo Contest…
Brumation Sweeps across Northern Latitudes, by Paul Hetzler. The consensus now is that any critter able to actively slow its metabolism is a hibernator. Actively slowing down sounds like an oxymoron, but let's not resort to name-calling…
Winter Raptors are Coming, by Gerry Smith. In November, many northern raptors settle in for the winter in the eastern Lake Ontario and western St. Lawrence region…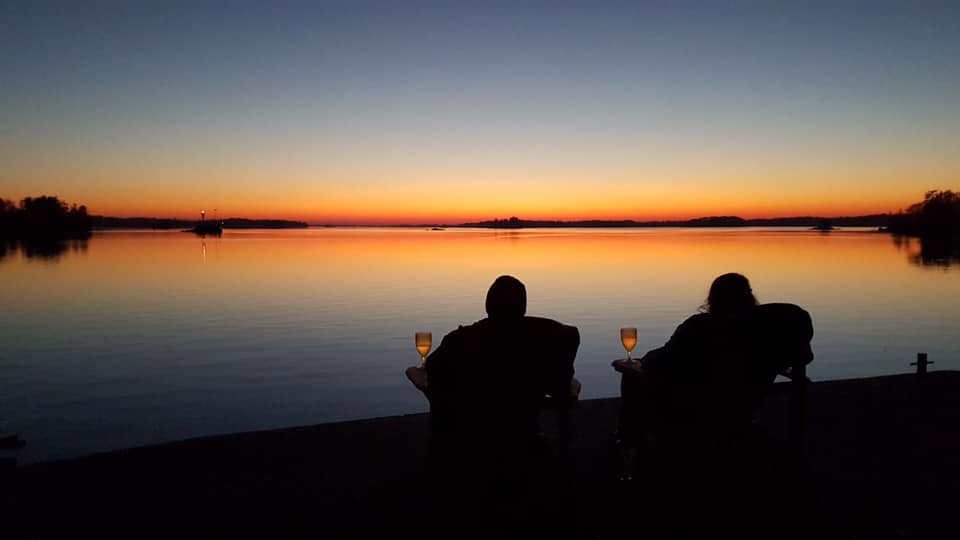 [Nora Detlor shared one of her last evenings on Ash Island this November. Perfect wine, perfect color.]
"Happy River," by Patty Mondore. Never has a ship that frequents the St. Lawrence Seaway been more appropriately named…
"Reality and Me" by Gretchen Huntley with photographs by Sam Battams, by Susan W. Smith. It started with a phone call from a name I recognized, Gretchen Huntley, but someone whom I had never met, and it took me on a path of discovery...
"The Orchards" on Grindstone Island, by Rick Casali. My family was fortunate to have owned "The Orchards" on Grindstone Island…
Captain Best, 'The Hermit of Wigwam Cove', by Richard Palmer. One of the most interesting characters who once lived in a small cabin at the edge of Lake Ontario on Sandy Pond was Captain George Best, commonly known as the "Hermit of Wigwam Cove."
First Annual Trash Free River Cleanup! by John Peach. 90 volunteers helped Save the River haul more than three dump truck loads of plastic and trash from the River bottom and shoreline.
Seven Business Lessons in "Bristol Fashion," by Joshua Todd. "Bristol Fashion" – A phrase meaning in good and seamanlike order with reference to the condition of a ship.
Sudoku Puzzle #71, by Dan LeKander. The Editor asked for an easier puzzle, so this month we will please her.  There are no advanced techniques, Steps 6-8, required, but you will need to play your "A" game to solve.
The Witch of Wellesley Island - Chapter 1: The Scream, by Patrick Metcalf. She took a deep breath and resolved to do her best to keep him out of trouble.  They shared the same birthday, but she was the big sister.
And to our American friends, have a safe Thanksgiving.
Enjoy,
Susan W. Smith, info@thousandislandslife
[End of Season at TI Park . Photo by James R. Miller]