Twelve articles are ready for you this month. Spring is in the air and soon the snowbirds will be on their way home and Summer 2022 will be starting. (Thank goodness eh?)
https://thousandislandslife.com/
Kelly Curry captures Clayton NY's waterfront at sunset!
From the Editor March '22 - Susan W. Smith
River photographs, TIA news of water levels, Hash over History for the 150th Anniversary of Clayton, and a tribute to Peter Murray of Tremont Island.
Memories of a Spring Duck Hunt – By Manley L. Rusho
This was 1944, so even shot gun shells were rationed because of WWII, and there were no choices in the store as to size or brand. When we needed supplies, we would travel to Clayton and visit Nunn's Hardware Store.
State of the Art Technology at Work – Dennis McCarthy
On February 4, 2022, Kris and Dana Hunt, from Hunt's Dive Shop in Clayton, NY, set up a tent on the ice covering the St. Lawrence. Though the tent looked similar to the many other ice fishing tents used by fishermen every February, the Hunts were on a different mission.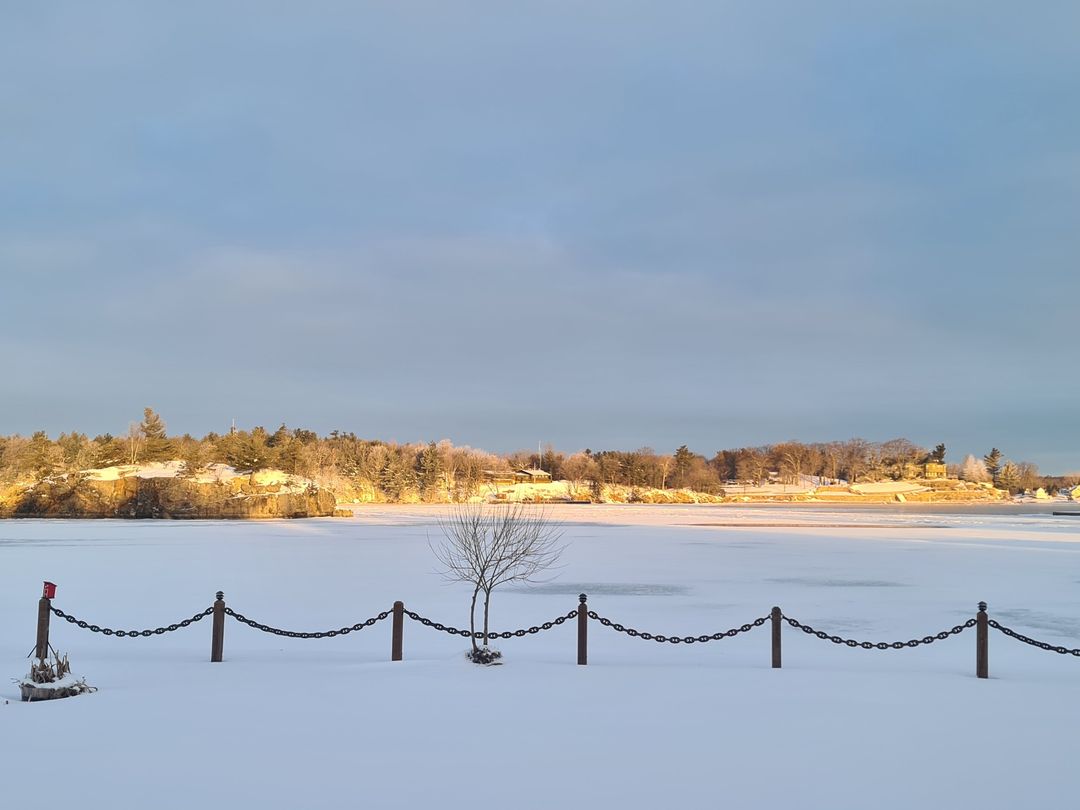 Kelly Curry says this landscape is about to change. Taken March 4, 2022
Water Wellness – Paul Hetzler
Academic testing is like water testing in that a passing grade in one realm doesn't apply to others. Just as an algebra exam won't affect your history grade (or it shouldn't) . . .
Discovering History through Social Media – By Zane Smith
One of the project highlights is the 1000 Islands History Museum's social media program, featuring old photographs from the Civic Collection. The program involves posting photographs, which are lacking information in the Museum's records, and asking the community to contribute any information they can.
Potholes, Kettles, and Ponds, Oh My! –By Patty Mondore
It started out as a matter of curiosity, but it ended up being an adventure.  Ever since the creation of the McFarlane hiking trail, we have enjoyed an occasional hike around the field within sight of the fascinating and historic Zenda Farms.
Lynda Crothers says she is not seeing any open water yet, Tuesday afternoon, March 8, 2022.
Rock Island Lighthouse, Part II – By Mary Alice Snetsinger
William (Bill) Johnston has a storied history in the Thousand Islands, and it is sometimes difficult to separate the man from the legend – or from the mythologized "pirate" celebrated at the annual Alexandria Bay "Bill Johnston Pirate Days" festival.
Excursions with my Cliffe Craft – By Marc Benoit
. . . And don't forget – boats are really just "floating logs" to get you somewhere, in a certain fashion, and with a song in your heart!
How to Restore a Wooden Cliffe Craft, Marc Benoit Style – By Marc Benoit
Having restored three wooden boats inside and out, I've amassed some very useful and practical experience in boat restoration. So here I will share some of the important things that I have learned.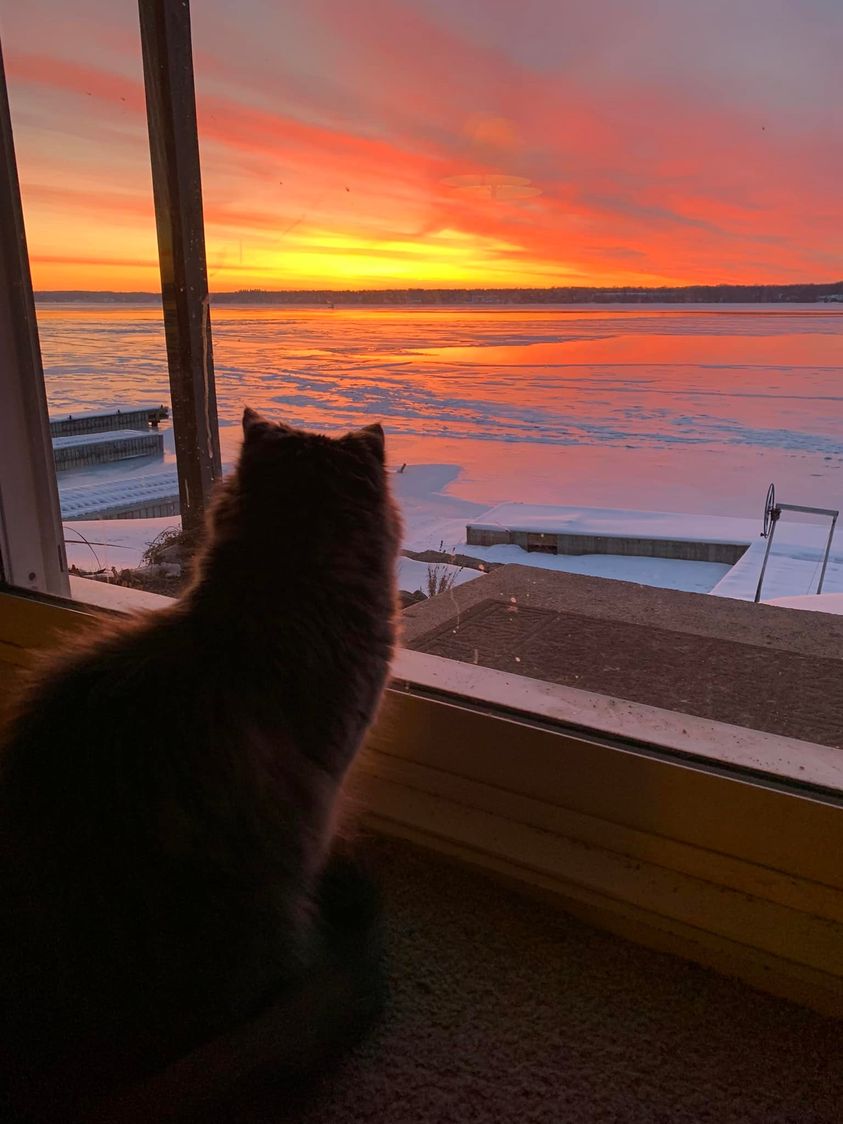 Peter Dunn's captured his Hizzo, looking out the window for spring!
The Elk Whistle Warrior Society – By Rick Revell
The Elk Whistle Warrior Society is a novel that sheds light on what is happening to the Indigenous women of Turtle Island. These highly trained professionals are out to protect their grandmothers, aunties, sisters, nieces, daughters, and children from the people who try to human traffic them, murder them, and abuse them.
The Life of Captain Simon G. Johnston – By Richard Palmer
Shipbuilding was the major industry and largest employer in Clayton, NY, from the early 19th century to well into the 20th century . . . Celebrating Clayton's 150th Anniversary
Sudoku Puzzles 102 & 103 – by Dan LeKander
Have you tried our Sudoku Puzzles? Be sure to try these and go back in time and try those presented in the past. How about Puzzle 55? Let us know how you do.
Lynda Crothers takes a photo everyday from Wolfe Island! This time she captures her visitors having breakfast.
Enjoy, and please leave comments or send them to me; we want to know what article themes you like the best.
Click this link and see all the articles at once: https://thousandislandslife.com
Susan W. Smith, susansmith@thousandislandslife