It's mid-January and by now, you're getting used to writing "2023." River folks are beginning to enjoy various winter activities and snowbirds are wishing for an early spring. We have a dozen articles this month and ask you to share TI Life with friends and family.
January '23 Issue of TI Life is now online.
From the Editor – By Susan W. Smith
Lots to report this month. Tributes to River champions: Gerry Huck and Tom Walker; photographs; plus, some winter activities . . .
Christmas Blizzard of '22 – By Susan W. Smith
The winds howled all night, and howling winds meant Lake Ontario came barreling down the River. The water came up an estimated two to two and a half feet, and the water spray traveled many feet/meters inland . . .
2022 River Review – By Richard L. Withington
I purposely have delayed writing the season-end report until the season is officially over. As I write, the National Weather Service in Buffalo is issuing a blizzard and Bomb Cyclone warning for the Great Lakes . . .
Whaley Marine, Gananoque captures Napoleon's Hat on Hay Island, after the Christmas Blizzard.
Waaban Crossing is Open – By John Stencell
People of Kingston celebrated the opening of the Waaban Crossing on December 13, 2022. The words that come to mind are "We built it." Then make the commendable addition: "On time and on budget!"
An Old Ice Boat – By Manley L. Rusho
Somewhere around 1943, my cousin John (Dano) and I had a winter project to fix up an old ice boat. We had been working on this old ice boat for several days now, salvaging parts from all over . . .
Antique Boat Expert and Cheerleader for our River: Peter Melon – by Rick Casali
Peter Mellon was the go-to expert on antique and classic boats going back to the late 1990's, when he founded Antique Boat America and Canada, which lists and brokers these vessels . . .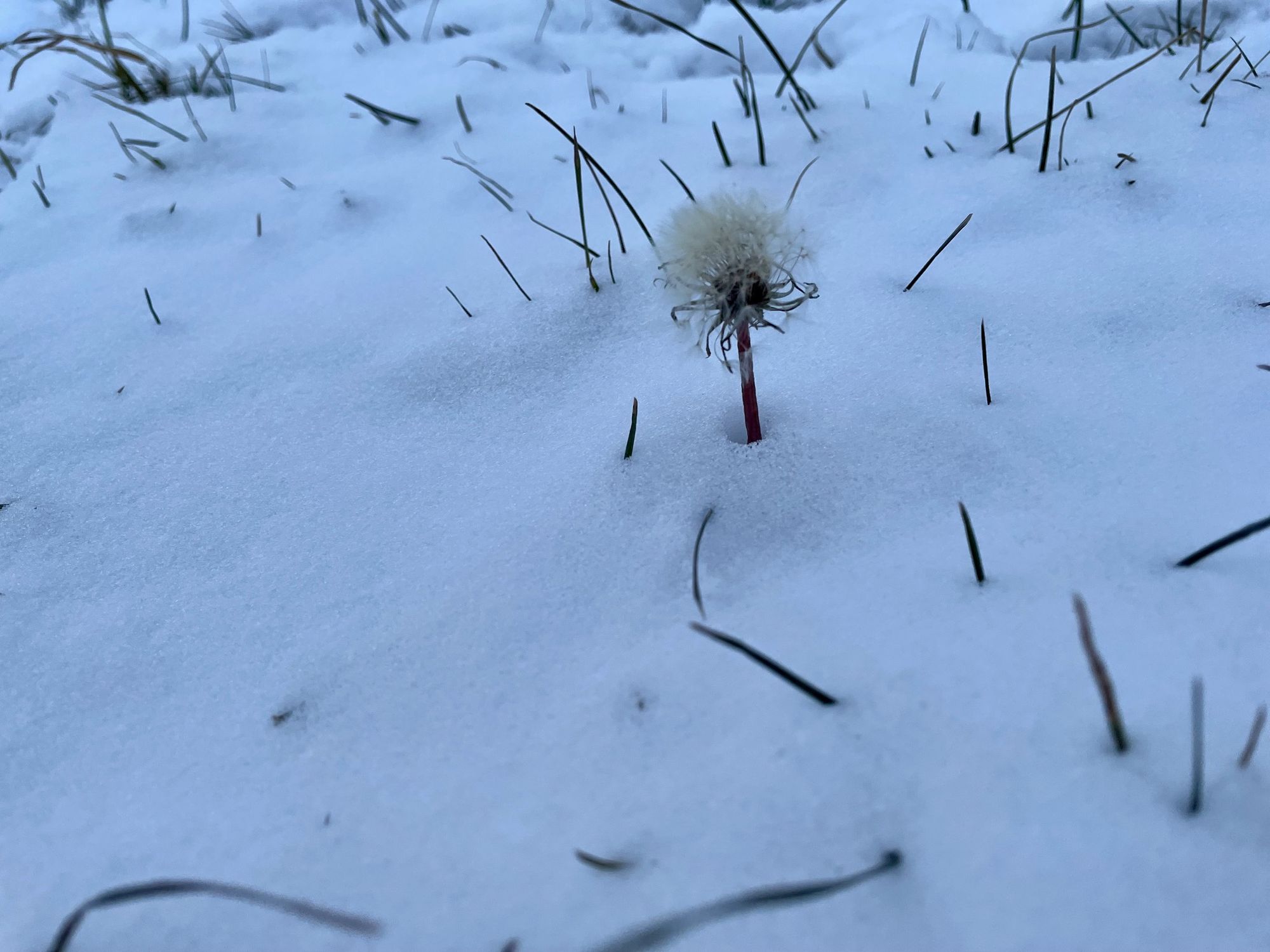 A hold out! Photo by Janet Staples, Clayton, NY
What a Honeymoon! – by Ralph Boston and Sherry L.B. Johnson
We explained we had a US licensed car and a number of sails we were taking to Toronto. "No!" the customs officer said, "and if you cross this line," . . .
Gatito: A Tail of a Real River Rat Cat – By Melinda Comstock & Martha Grimes
, , , From that point on this became the cat's routine. He swam to Little Grenadier in the morning and returned in the evening. Each summer evening, the family gathered on the dock to watch the swimming cat make his return.
Dye by the Blade: Alex Tuch Tells his Story Through Tattoos – by Melissa Burgess
"The top of my right arm is all around my cottage, my parents' cottage, where my brother, sister, and I pretty much grew up in the summertime," he said. A beautifully-detailed composite piece pays homage to the area . . .
The Fate of the Schooner "Maggie L." - Richard Palmer
Captain Merton H. Mellon was at the helm of his small two-masted schooner, the Maggie L., sailing down the St. Lawrence River on the night of November 1, 1929 . . .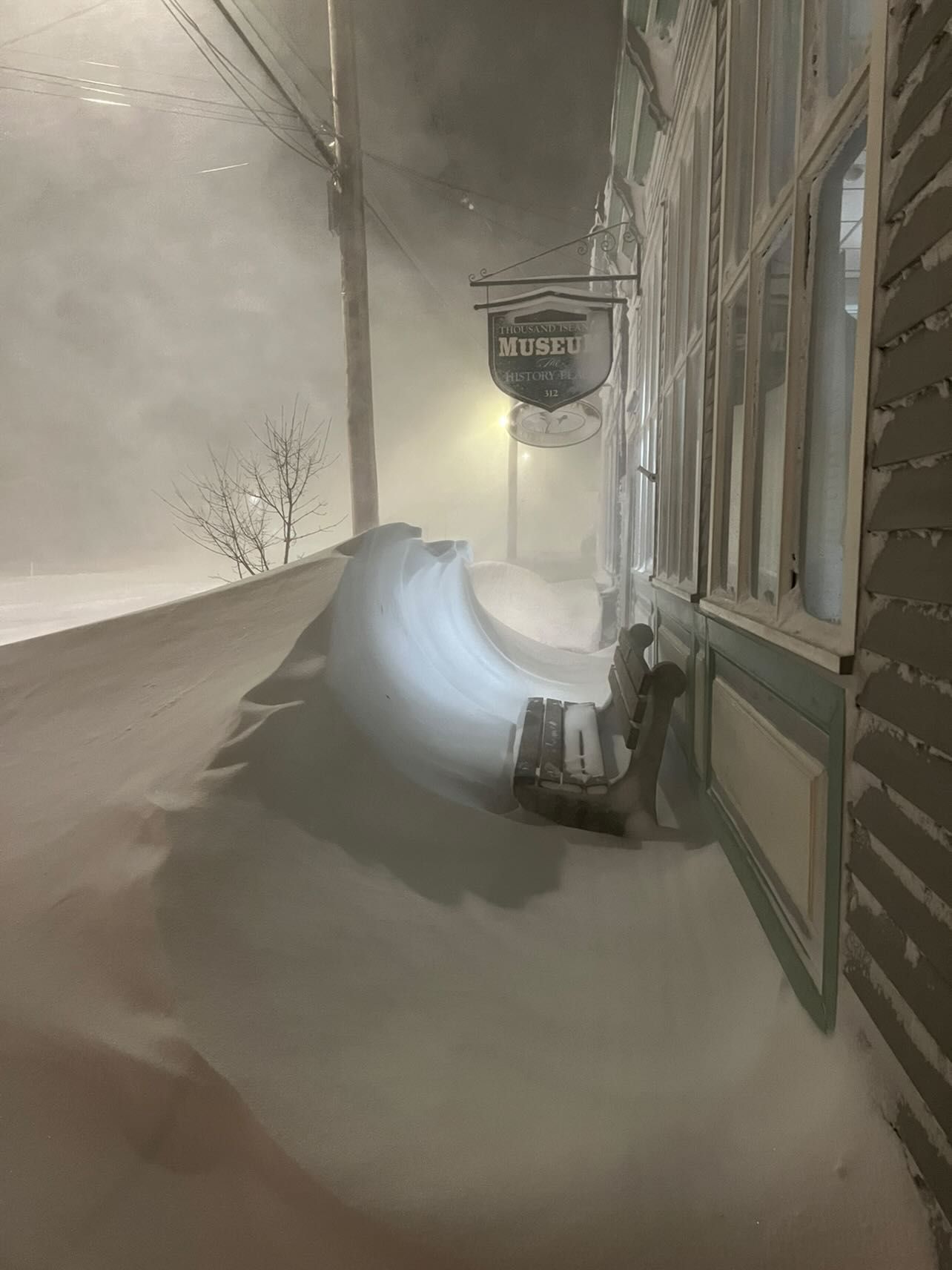 Jarrett Sweet captured Clayton's sidewalk after the Christmas Blizzard. He suggests "Surfing anyone?"
Third Season Takes Aim at Aquatic Invasive Species and Promotes Water Quality in the A2A – by Shannon Walter
Twelve stewards were hired and trained to cover over 30 boat and car-top launches across four counties, where they worked to teach the public how to look for and remove aquatic invasive species (AIS) from their boating and fishing equipment.
Sudoku Puzzles # 133, #134, #135 & #136 – By Dan LeKander
You've already celebrated the start of 2023, so it's time to settle in and welcome a year of promise for Sudoku . . .
We encourage you to leave comments, so we that know which subjects you like the most.
Enjoy and stay well,
Susan W. Smith, editor - info@thousandislandslife.com
Shawn McDonald Blance captures a quiet time in Alexandria Bay.