On our way for our second visit to The Wentworth in Jackson, NH we passed through Marshfield, Vermont.
Marshfield is small village; we were getting hungry after a long morning drive. Suddenly we spotted the Rainbow Sweets Café and that's where the adventure started.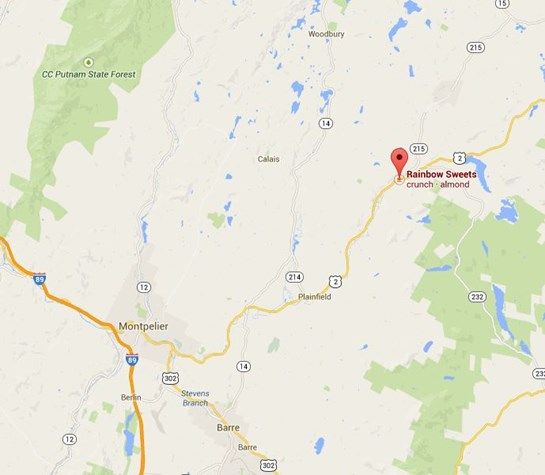 Walk in the door and you are immediately assaulted by the bombastic owner, Bill. We never did get his last name. Bill ordered us to 'come over and smell the lunch he had prepared' he explained that 'nothing was fried, everything was baked.'
We were also informed how lucky we were to have chosen the best bakery in "northern New England;" he asked us where we were going and he told us there wasn't any place to eat on the way!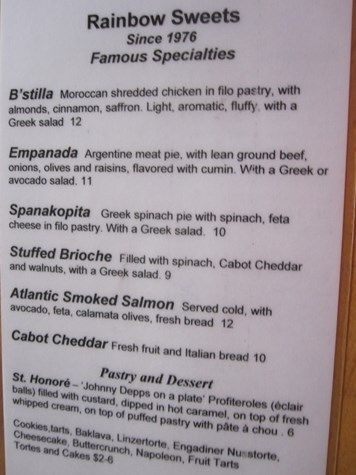 There was a menu, see photo, with just four items all extremely unexpected in rural Vermont. After a pleasant lunch the best part came with Bill's exceptional pastries.
This is Bill's 39th year in Marshfield as a large sign in the window proclaims. Bill told us that when he came to Marshfield he rented the store front the bakery occupies for $70.00 per month. A visit to the rest room reveals that Bill's Rainbow Sweets are well-known to the outside world; hanging just next to the commode is a well faded copy of Gourmet Magazine featuring Bill and his bakery. Around the dining area there are clipping from such as the New York Times extolling Bill's bakery.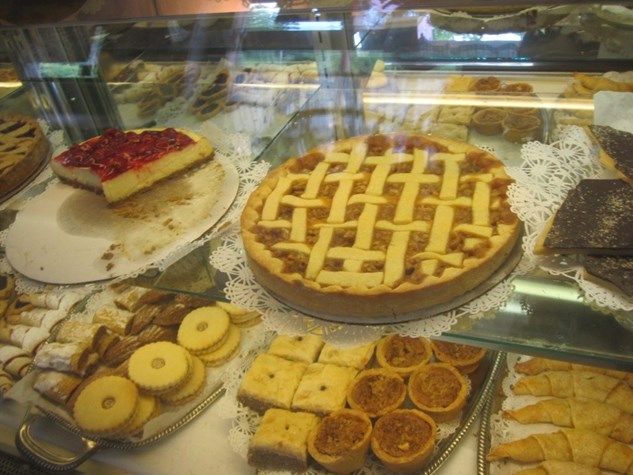 Next time you're in Marshfield don't miss the Rainbow Sweets Café.
By Rex Ennis