So, family members and/or friends are coming to share our special brand of paradise. While the River is the perfect "Nanny" for much of any vacation, there comes a time when a contingent of the group says, "Let's leave this little oasis for a few hours to explore whatever other delicacies our Shangri-La has to offer." Such a day trip or a night away may be a highlight of the visit or the summer.
As the summers pass, my bride and I continue to investigate the region, to savor the attending features that make the 1000 Islands area unique. Last summer it was the Adirondack Museum on Blue Mountain Lake. Earlier in the season, we spent a few nights at the recently upgraded and modernized Opinicon at Chaffee's Lock of the Rideau Canal system.
Got kids to entertain? How about a peek into rural living in the 1860s, at Upper Canada Village near Morrisburg, Ontario, or the Antique Boat Museum in Clayton, NY, which has wooden boat exhibits and speedboat rides to amaze visitors from the youngest to the oldest.
An afternoon sauntering through the De Peyster/Heuvelton rural outpost is like a guided tour of farming a hundred years ago. The Amish in this area demonstrates what it means to be "made in America."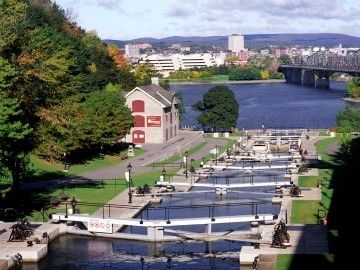 The National Gallery of Canada in Ottawa near Parliament Hill and the Rideau Canal locks is a venue exhibiting an array of artistic styles in their permanent collection and remarkable traveling exhibits like the Impressionist collection on display now. As a bonus, Ottawa is a fantastic city to visit.
Lake Placid, in the Adirondacks, is a quaint location on the US side of the border. An early 2.7 mile walk around Mirror Lake is a great way to start the day.
I have assembled some of my favorite places in the "Excursions" section of this online periodical. I would relish hearing about other reader's favorites in upcoming issues.