What is Meredith Wells to think when her erstwhile friend, Tristan Wolfe, son of a Russian shipping tycoon, fails to reappear for five full years after a childhood of island summers spent together? Until his yacht capsizes her skiff, she assumed he had forgotten her.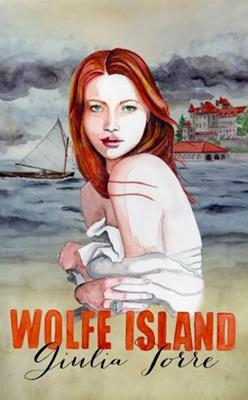 Meredith is an accomplished botanical illustrator sketching New York's native island plants. Wolfe's return brings intimate memories to the surface, and with them an expansion of her artistic repertoire. Wolfe and Meredith's reunion is a spectacle, but nothing compared to the accidental circulation of her anatomical studies...of him.

Meredith is convinced her titillating drawings will lead to a lucrative career, and even progress the woman's movement. If only she could persuade Wolfe to assist with her scientific rendering of his anatomic detail.

But an entourage of city socialites have arrived to witness the unveiling of the most spectacular plan the region has ever seen…an international seaway that will introduce big, brilliant ships to the river. Wolfe is prepared to sacrifice everything to see the seaway realized.

Reunited with the young woman he has known since she was hip high, Wolfe is faced with a choice: a marriage contract with the wealthy daughter of his business partner, one that would secure the seaway and prosperity for the only place he's ever called home. Or succumb to the maddening distractions of a native girl who plays baseball in bicycling pants and swears like a sailor.

Can Meredith persuade him to bank diamonds on the water?

Set against a lush American landscape in 1893, Wolfe Island is the story of two people deeply connected to the region and to each other.

Cover art by Tracy Hetzel.
---
Product Details
Format: Kindle Edition
Publisher: Giulia Torre (Dec 25 2014)
Sold by: Amazon Digital Services, Inc.
ASIN: B00PIXYZ2S
Note:  Be sure to see Lynn E. McElfresh's December 2015 article Giulia Torres: Romancing the River