Chris Brock has published his short stories into a new book.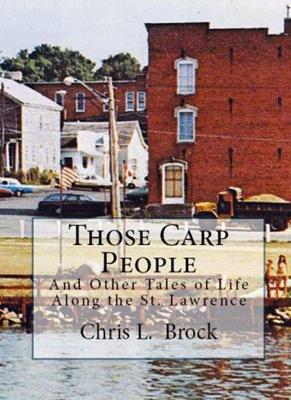 In this collection of humorous short stories of small-town life along the St. Lawrence River by award-winning journalist Chris Brock, discover how one village became the "Carp Capital of the World." When "Junk Day" comes to River Valley, it brings out strange things. A man has a serious case of "Light Envy" at Christmas. Other stories in this collection of 10 range from a farmer who learns to fly to a pastor who learns to float.
"Funny and inventive, Brock is a natural storyteller, with a flair for the absurd," said Ellen Potter, a Thousand Islands summer resident and author of several best sellers including "The Humming Room" published by Macmillan .
"He makes readers feel like they are sitting on his front porch, sipping iced tea and being regaled with the extraordinary events that erupt in the lives of his otherwise ordinary neighbors. With subtle strokes, he lifts his characters out of their normal lives and launches them into the weird and wonderful."
Many of these stories have won awards and/or have been published at the online magazine "Thousand Islands Life."
Author Chris Brock was brought up in Waddington along the river. Many of the stories were also inspired by his profession as a journalist. He's the features writer and a copy editor at the Watertown Daily Times. He has also worked at the Oswego Palladium-Times and Massena Observer.
See TI Life in September 2012 where we announce this new edition for your book shelf.
The book sells for $9.99 and is available at Amazon.com.  It is also available for Kindle for 4.99
The Watertown Daily Times review:  http://www.watertowndailytimes.com/article/20120630/CURR15/706309988