Five weeks prior to the Normandy Invasion, the Canadian destroyer, HMCS Athabaskan, was sunk by the enemy off the coast of Ile Vierge, France. She had been traveling with her sister Tribal, HMCS Haida. As part of the 10th Flotilla, the two warriors were on a mission to accompany mine-layers, clearing the Channel in preparation for D-Day.
In the early morning hours of April 29th 1944, Athabaskan was struck by a torpedo from a German Elbing Class Destroyer. Ten minutes later, a second thunderous explosion ended her career as a warship, and she slipped beneath the sea, five miles from Brittany's rocky coastline.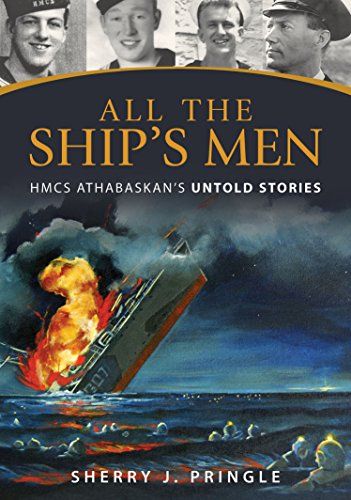 Haida returned to the site of the disaster to rescue sailors. With dawn imminent and fear of enemy air strikes, Haida was ordered home to Plymouth. She and her cutter managed to rescue fifty seamen from the frigid Channel waters. They had set sail that night with a crew of 261. As Haida thrust her throttle into forward gear and headed for home, she left behind 211 sailors behind, awaiting their fate.
Hours later, the enemy returned to the scene of the disaster and rescued eighty-three. These men were to spend the remainder of the war as prisoners. The remaining one hundred and twenty-eight sailors perished, including Athabaskan's beloved Captain John Stubbs. The tragedy occurred just five weeks prior to D-Day and remains Canada's largest naval disaster due to a surface action, in WWII.
Among the Missing Presumed Dead, was the author's nineteen year old uncle, Maurice Waitson.  A series of events led her on a journey of discovery which culminated in a book titled "All The Ship's Men", "HMCS Athabaskan's Untold Stories", published by Vanwell in St. Catharines, Ontario. The book delves into the search for young Waitson's  life and death and includes numerous accounts of individual sailors' rescue by the enemy, life as a prisoner of war complete with escape attempts and mistaken identity.
The book will make its international debut in France in May where HMCS Athabaskan will be featured at the Juno Beach Centre in conjunction with the celebration display of the Canadian Navy's Centennial.
In this poignant account of the tragedy surrounding the sinking of the Second World War, author Sherry Pringle pays homage to the courage and sacrifice of young Canadians confronting the challenge of war. Through refreshing first hand accounts from sailors at the centre of the event, and through her own voyage to understand the meaning of a tragedy that cost the lives of 128 sailors and forever shaped the lives of those who survived, Pringle provides a sensitive personal portrayal of the impact of war.
– Michael Whitby, DHH, DND
Available on Amazon - Paperback $5.48
Product details
Paperback: 160 pages
Publisher: Vanwell Publishing Ltd. (2010)
Language: English
ISBN-10: 1550689886
ISBN-13: 978-1550689884
Package Dimensions:          9.4 x 6.5 x 0.3 inches
Shipping Weight: 12.6 ounces
Contact author: Sherry Pringle
11 Carscallen Dr.
Napanee, On K7R 3H6
613-354-3475