Book Review by Susan W. Smith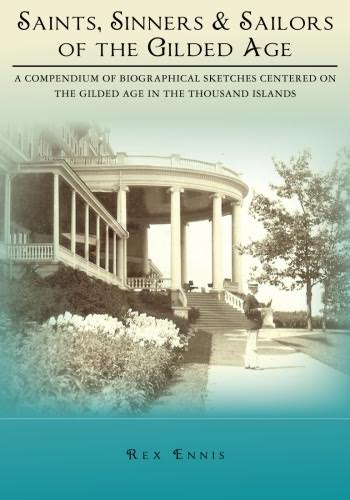 Rexford M. Ennis (Rex) has been researching the history of the Gilded Age for several years. In 2010, he published Toujours Jeune Always Young, the biography of Charles G. Emery and the history of the New Frontenac Hotel. A voracious researcher, Rex has spent countless hours finding important research material and keeping track of people, places, and events.
Rex was always intrigued by a particular island-construction story ."In the early 1990s Mrs. Dean B. Thomas required some foundation work at her cottage, 'Sunrise' at Westminster Park" he writes, "She hired Thousand Islands builder, Steve Taylor, to make the repairs." One of the Taylor associates, Bill Strodel began preparing the walls to allow the building to be jacked-up. As he removed the wall covering he found rolled up in the wall the 1898 Frank H. Taylor Map of the Thousand Islands; Hotels, parks and cottages."
The map was given to the Thousand Islands Land Trust to publish and was given to new members who supported TILT (with a $100 plus gift) in its 1995 capital campaign. Rex, a donor, began to find out who were these early islanders. There were over 109 properties designated on the Taylor map and he wanted to know more about them!
There are hundreds of biographies, in alphabetical order, in the book. Two of my favorites would be considered as Sinners:
Miller, Mrs. Isabella Maxwell (1846- ), Mulcaster Island (AKA: Sugar Island), home: Perth ONT, Mrs. Miller was the widowed sister of the somewhat rakish John Graham Haggart, Member of Canadian Parliament. "Haggart was considered briefly for the national leadership. He may have suffered, however, from innuendo relating to his difficult marriage and his womanizing on Parliament Hill, and from his reputation as an idler and "a Bohememian," as Lady Aberdeen viewed him in 1894. (Haggart and his wife may have been living apart since as early as (1871.) he will be best remembered as one of the seven men, the next of the traitors: Bowell called them, who resigned briefly from Bowell's cabinet in January 1896. All thought Bowell was inept. One of the leaders of this withdrawal, Haggart earned Bowell's particular enmity for bluntly declaring that the prime minister, "from day to day, from time to time, like a sick girl hanging onto life, had refused to resign" [Sic] Dictionary of Canadian Biography On line, Larry Turner, University of Toronto." Page 85.
Myers, Ephraim H. ( 1848-?) and Ada, Round Island Lot #174, home: Carthage NY and Vilas, SD, banker and real estate developer. He founded and developed Vilas, Miner Co. SD including founding the Vilas Times. He was Cashier of the First Nation Bank of Carthage for many years, then in January 1887, he was elected President and Director. He was a member of the Carthage Railroad Commission. The Commission's objective was to persuade a railroad to come (to) Carthage for its annual shipping of 200,000 tons of freight. He was a director of the bank in Philadelphia NY and the Merchants and Manufacturers Exchange.
"One night in April 1893, he absconded from the town aboard a train, taking substantial deposits with him, scandalizing the town of Carthage and environs: Myers Family Roots web Page. According to the New York Times , 4 May, 1898 Myers made off with over $110,000 over a period of eight year by cooking the books…" Page 89.
All of the biographies give an incredible snapshot of Thousand Islands life in the Gilded Age: between the Civil War and the First World War. The descriptions focus on both sides of the border. The book does not contain the map, but the references to the islands are easy to decipher.
"Saints, Sinners & Sailors of the Gilded Age" by Rex Ennis is available in local book stores in Clayton as well as on Amazon at $18.95.
Rex has written more than a dozen articles for TI Life.  To see them all search here:  Rex Ennis and well as on our History page.  And be sure to visit his website at http://www.charlesgemery.com/Emery.htm.
Susan W. Smith, Editor, TI LIfe.Published July, 2011