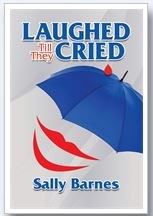 About the Book
Laughed Till They Cried chronicles the lives of three post-war girls who grow up amidst a group of quirky characters in a small town in Eastern Ontario.  Ultimately they settle in historic Kingston where they get involved in politics and form the core of a closely knit group of 12 women who call themselves The Cell Sisters – just for the hell of it.  The Cell weathers everything life can throw at a group of women hell-bent on taking on the world.  Nothing can stop them – until old age ruins everything."
About the Author
Sally Barnes is known as a self-confessed political junkie, residing near Kingston, ON.  On October 15th, her Laughed Till they Cried was launched in Kingston and it promises not to disappoint.
For more information and to order the book see:  http://sallybarnes.ca/#sthash.o4MP4Ec2.dpuf
Books:  $21.95
Available through the author's website: sallybarnes.ca, or at Novel Ideas, Kingston, ON.