Thomas Pullyblank wrote to TI Life saying:
Cornflower's Ghost, was published in October 2009 and is now available to Thousand Islands readers.  The main setting of the story is a fictional city in Upstate New York, but two essential scenes take place on the River, and the protagonist's life has been shaped by events at his family summer home on Wellesley Island.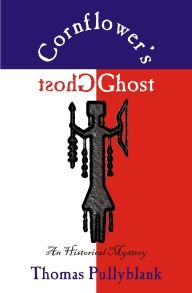 About the book:
After grieving the loss of his parents and brother, graduate student Tom Flanagan returns from a lengthy sabbatical to his winter-locked SUNY upstate campus, to begin life anew in the spring semester, only to learn of the "accidental" death of his history professor, Peter Langley. Puzzled by the accounts of the accident, Tom is driven to pursue the facts of the case-and is immediately drawn into the intrigue surrounding another death—that of the Revolutionary War hero Theodorick Crane—Langley's obsession throughout his entire academic career. Putting his historical research skills to work, Tom pursues the two mysteries and soon becomes intimately involved with Crane's descendants: a manipulative college administrator, her even more manipulative Congressman husband, and their captivating niece—all of whom have vague former connections to Langley. Standing in the shadows behind it all, is the ghost of Cornflower, an Iroquois woman executed for treason by Crane, who seems to be the key to unlocking the secrets of the past. But as the semester progresses and Tom delves deeper into Langley's life and death, he and those close to him become tangled in a dangerous web of political ambition and academic deceit, the unraveling of which threatens to disrupt the lives of all involved.
Thomas Pullyblank has skillfully woven a tapestry of historical mystery and modern-day campus politics into a uniquely American story that addresses the larger question of how our past should or should not be employed to address contemporary issues. Based upon 200 years of Upstate New York history, Cornflower's Ghost translates meticulous research into believable historical characters and events. As with the lessons of history, each of the contemporary characters strives not just to solve a historical puzzle, but rather to gain some degree of self-understanding.
ISBN-13: 978-0-9789066-5-8
ISBN-10: 0-9789066-5-9
LCCN: 2009934094
www.squarecirclepress.com/books/CornflowersGhost.htm