Clayton - (Images of America: New York Series) (Paperback)
by Verda S. Corbin, and Shane A. Hutchinson.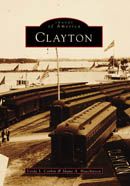 "This photograph, probably the oldest-known photograph of Clayton, shows the corner of James Street and Water Street..."

ISBN: 9780738563053
Publisher: Arcadia Publishing
Publishing date: 1998

Book Description:

The town of Clayton, located in northern New York State, was established  on the shores of the mighty St. Lawrence River. At the turn of the last  century, Clayton was in its heyday, and was one of the most famous  resort destinations in the northeastern United States. During this  period, Clayton was a place of affluence, its economy and culture built  on the timber trade, shipping, boat building, and tourism industries.  This book highlights the collection of Lester Corbin. Mr. Corbin, known  as the "Dean of the Thousand Islands Photographers," dedicated his life  to compiling the photographic history of Clayton and the surrounding  Thousand Islands Region. Whether shooting his own photography or  restoring the collections of photographers who went before him, Mr.  Corbin was able to develop one of the most extensive collections in the  area. Every photograph in this book is taken from an original glass  plate or negative found in the collection.

Author Bio: The authors of this book, Verda S. Corbin and Shane A.  Hutchinson, are the owners of Corbin's River Heritage, a photography  gallery and bookstore located in downtown Clayton. Verda Corbin, wife of  the late Les Corbin, has been involved in the business for over four  decades. Verda's grandson, Shane Hutchinson, moved to Clayton two years  ago to help with the operation of the business. This year Verda and  Shane are celebrating the 50th anniversary of Corbin's River Heritage  and have compiled Clayton as a tribute to Les Corbin's collection.


Visger's World
By Verda S. Corbin
Published 1987

Regrettably out of print, this was a major contribution to regional history. It was part of Images of America: New York Series and printed in Paperback.