An abandoned country church is revisited by old friends on the 100th anniversary of its founding.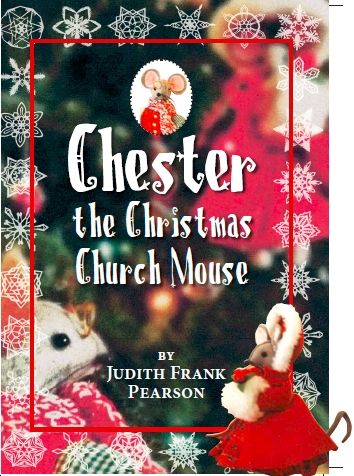 Believers gather on a cold Christmas Eve for dinner and a midnight church service, observed by Chester, the lonely mouse who lives in the beautiful, old church in Potters' Corners.  Noisy visitors and a colorful tree ornament shape like a beautiful lady mouse overwhelm him with sadness.  As midnight approaches, he alone knows what it will take to fix the faulty Christmas tree lights; he must brave the dark basement to find the trouble.  But in that same darkness lurks Slither, the snake, waiting for him….
What is in store for Chester if he is courageous?  Read this charming tale of love, longing, and hope as experienced by the smallest of creatures, to see if Christmas Eve is still a time for miracles.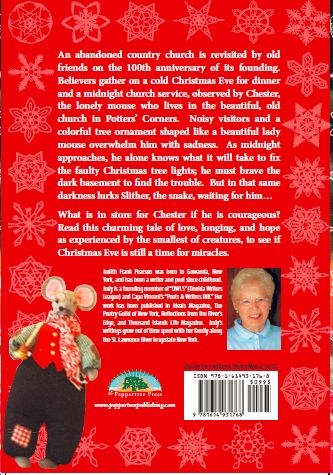 Available in local book stores and on Barnes & Noble, Waterstones.com,
Amazon ISBN-13: 9781614931768
Publisher: The Peppertree Press
Publication date: 4/18/2013
$9.95
About the Author:
Judith Frank Pearson was born in Gowanda, New York, and has been a writer and poet since childhood.  Judy is a founding member of "OWLS" (Oneida Writers League) and Cape Vincent's "Poets & Writers INK." Her work has been published in Ideals Magazine, The Poetry Guild of New York, Reflections from the River's Edge, and Thousand Islands Life Magazine.  Judy's writings grow out of time spent with her family along the St. Lawrence River in upstate New York.
Dedication
This story is dedicated to my grandchildren, who have been reading and dramatizing the Chester story a Christmas family tradition.
Author's Acknowledgements
I would like to acknowledge Janice Burch of Amsterdam, New York, who created the lady mouse figurine, which inspired the character of Miss Snow, and who later created the perfect Chester for me.  This story could not have come to publication without the technical talents of my daughters Kim and Mary, and the artistic skills and imagination of granddaughters Elizabeth and Caroline.