(First of a trilogy of novels taking place in the Thousand Islands)
R.M. Doyon has been a journalist, writer, public relations executive and entrepreneur for more than three decades.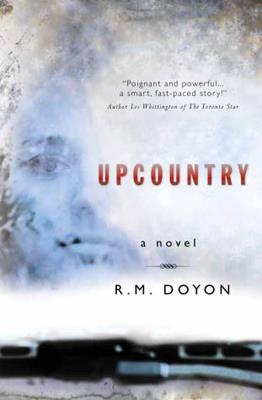 A graduate of the University of Western Ontario and Carleton University's School of Journalism, he began his career with the Ottawa Citizen before becoming a political reporter and Parliamentary Bureau Chief for United Press International, where he crossed paths with six Canadian prime ministers and one U.S president.  After his time at UPI, Doyon wrote for The Vancouver Province, Maclean's, and The Financial Post before serving as a speechwriter and senior communications advisor in two Canadian government departments.  An avid observer of the American presidency, he boasts to family and friends alike that he has set foot in the Oval Office.
Though successful in business, during which he co-founded one of North America's most-admired public relations firms, he never lost his love for fiction and screenwriting.  In addition to Upcountry, he is the author of Pirouette, a stage-play on the life and times of Pierre Elliott Trudeau, and has co-written two screenplays—Shoulda, Coulda, Woulda and The Last Carousel with his wife Shelley.
Inspired by true events, Upcountry is his first novel.  His sequel, entitled Thou Torturest Me, will be released in the spring of 2013.
Description: Up Country, a novel
JANE SCHUMACHER, a smart and spirited political aide to the Governor of New York, is shepherding her charismatic boss for a serious run for the White House.
But after a visit to her doctor shortly before Thanksgiving, she begins to doubt whether her dreams will come true.  Angered and shaken, and after years of absence, Jane abruptly cancels her holiday plans with her handsome Argentinean-born boyfriend to return to her upcountry hometown.
Upon her arrival, however, Jane encounters reminders from a troubled past.  A chance meeting with an old beau.  An awkward reunion with a distant father.  A skeptical and dismissive twin sister.  A crude and vulgar brother-in-law.  And, throughout it all, the haunting voice of her late mother.
Following a disastrous Thanksgiving dinner, Jane discovers her sister's painful secret and faces a fateful dilemma:  should she simply rescue her sister from her husband's evil clutches or take justice into her own hands?  But for Jane Schumacher, nothing is ever simple.  Nothing is cut and dried.
Set against an engaging backdrop of modern political times, Upcountry is a riveting, page-turning story of sibling strife and affection, of sadness and grief, and finally redemption and rebirth.
---
About the book, Up Country
Paperback: 390 pages
Publisher: CreateSpace Independent Publishing Platform (October 18, 2010)
Language: English
ISBN-10: 1452898014
ISBN-13: 978-1452898018
Upcountry is available at Corbin's River Heritage book store in Clayton, NY.  It is also available on Amazon.
Kindle version available.
---