Now in its 4th season, join the Marine Museum of the Great Lakes and the Kingston Yacht Club for our Nautical Nights Winter Speaker Series!

Tickets are $5 and all funds go directly to support speaker honorariums. Registration is required to receive a link to the event and closes 2-hours before the start of each presentation. Deadline is 24 March at 5pm. (If you registered for our Winter Package, no need to worry you are already registered. We will send you a reminder on the day.)
March 24, 2021
Bush Runnr with Mark Bourrie
AND, Kingston Yacht Club offers take-away! Order your meal over the phone and enjoy some fresh and delicious local cuisine - it's almost like being there in person!
Menu is available here.
Known to some as the first European to explore the upper Mississippi, and widely as the namesake of ships and hotel chains, Pierre-Esprit Radisson is perhaps best described, writes Mark Bourrie, as "an eager hustler with no known scruples." Kidnapped by Mohawk warriors at the age of fifteen, Radisson assimilated and was adopted by a powerful family, only to escape after less than a year. After being recaptured, he defected from a raiding party to the Dutch and crossed the Atlantic to Holland—thus beginning a lifetime of seized opportunities and frustrated ambitions.
A guest among First Nations communities, French fur traders, and royal courts; witness to London's Great Plague and Great Fire; and unwitting agent of the Jesuits' corporate espionage, Radisson double-crossed the English, French, Dutch, and his adoptive Mohawk family alike, found himself marooned by pirates in Spain, and lived through shipwreck. His most lasting venture as an Arctic fur trader led to the founding of the Hudson's Bay Company.
April 7, 2021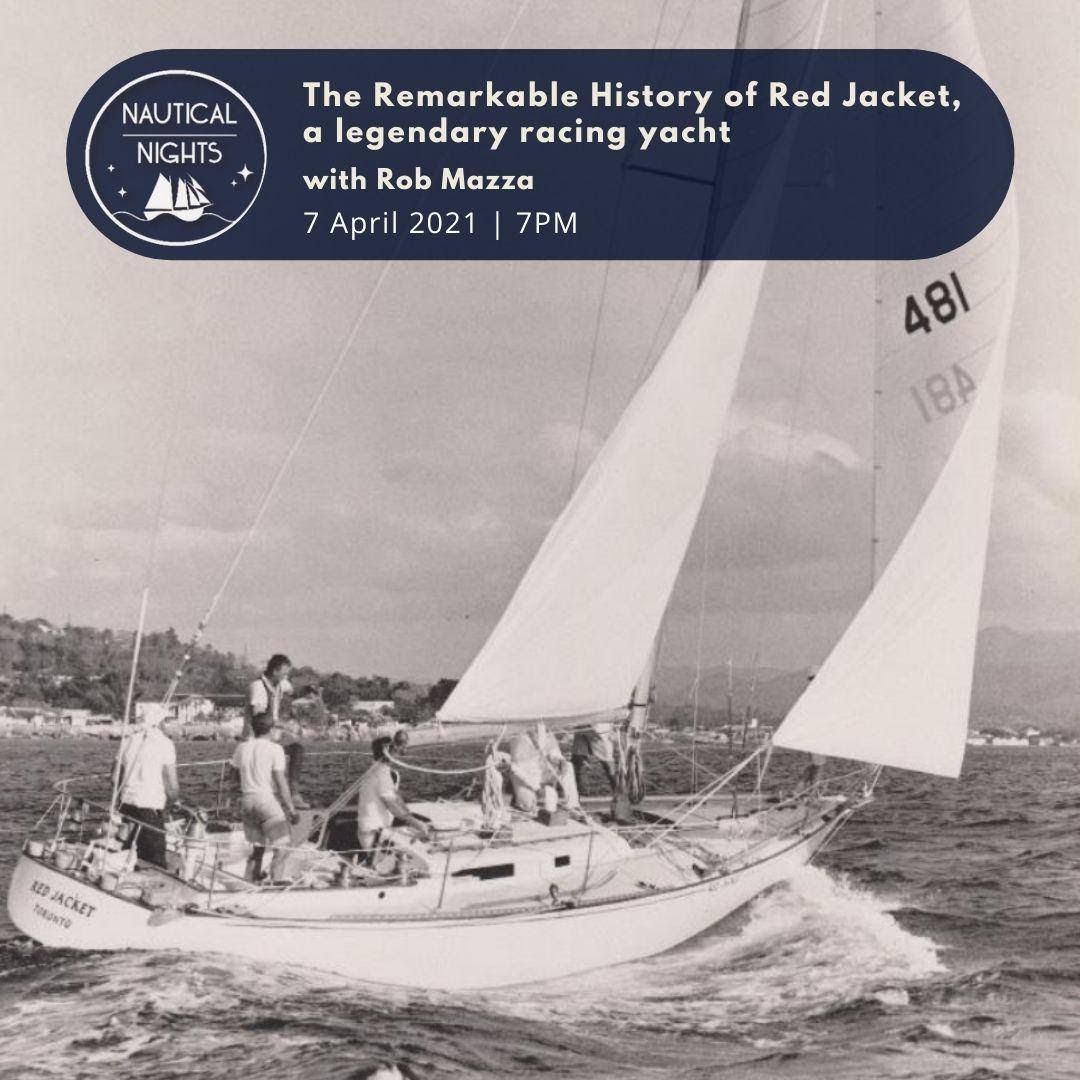 Then, the story of Red Jacket with Rob Mazza
7 April 2021 at 7pm
Representing a quantum leap in both design and construction, Red Jacket's short overhangs, stripped out interior, separate keel and spade rudder, large sail plan, and attention to detail would become the hallmarks of all future Ocean Racers. However, it was her obsession with light weight combined with high strength construction elements, embodied in her use of a fully balsa cored hull, that pioneered the way. She was the first Canadian and non-American boat to win overall title at the Southern Ocean Racing Conference.
Posted in: Events
---
---
---